How to manage On-The-Go Playlists on the iPod Touch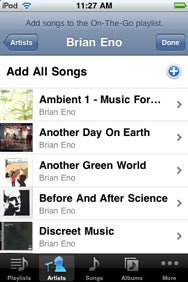 On-The-Go playlist is a feature on your iPod Touch that lets you set up playlists on the iPod itself without having to use the iTunes.
Add songs to On-The-Go playlists
First go to your music, and tap Playlists, then On-The-Go, which appears near the top of the list. Browse for songs using the buttons at the bottom of the screen.
Tap any song or video to add it to the playlist. Tap Add All Songs at the top of any list of songs to add all the songs in the list. If you select an artist, composer, or album, you can choose Add All Songs at the top of that item's list, and if you select a genre, you can choose Add All Albums. Read more...
Edit On-The-Go playlists
To edit the playlist, tap Playlists, tap On-The-Go, tap Edit, then do one of the following:
To move a song higher or lower in the list, drag the rearrange icon next to the song.

To delete a song from the playlist, tap the red minus sign icon next to a song, then tap Delete. Deleting a song from the on-the-go playlist doesn't delete it from iPhone.

To clear the entire playlist, tap Clear Playlist.

To add more songs, tap the plus sign icon.
Sync On-The-Go playlists to iTunes
If you sync your iPod automatically, iTunes will copy the On-The-Go playlist, naming it On-The-Go 1, On-The-Go 2, and so on. The playlist on the iPod Touch itself is deleted. To put a playlist back on iPod Touch, select iPod Touch in the iTunes sidebar, click the Music tab, and set the playlist to sync. However, if the iPod is set to sync manually, then iTunes won't copy the playlists. If you want to save them, you'll have to recreate them on iTunes.
On-The-Go playlists are a great way to set up a soundtrack for a day's listening without using iTunes.
Labels: Apple-iPod-Touch-Tips-Tricks
If you enjoyed this post and want to stay in touch, make sure you subscribe to the RSS feed! or via email:
5 Comments:
<< Home
SPEAK YOUR MIND. LEAVE A COMMENT! Just select Name/URL from the 'Comment as' box below. Enter your name (URL is not required) and leave a comment.
©2012 appleipodtouch.blogspot.com. All rights reserved